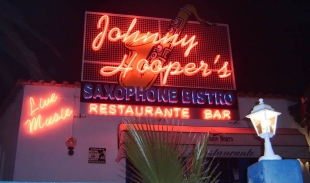 Johnny Hooper's Saxophone Bistro opened in June 2006 and has been carefully refurbished to create the ambience and relaxed buzzy atmosphere which is well associated with Johnny's shows.
Join us for a great night of delicious food, drinks and superb entertainment!
Johnny Hooper's Saxophone Bistro is currently open for the 2009 season
RESERVATIONS: Tel: (00351) 96 3176635
JOHNNY HOOPER SHOW NIGHTS
Tuesdays & Fridays at 8.30pm
For the best night of your holiday! Johnny Hooper performs his fantastically unique show every Tuesday and Friday night: mellow sax during dinner (Misty, Summertime), a fun music quiz, then the party livens up with more sax (In The Mood, Baker st), dancing & '60's, '70's disco.
Disclaimer: Responsibility cannot be taken for anyone dancing anywhere other than on the dance floor
CHILL-OUT SUNDAY AFTERNOONS
Live music on the garden terrace. Wonderful atmosphere! Fantastic Sunday Roasts, superb Sangria. Johnny is your host while superb local musicians create the laid-back vibe. Bands alternate weekly and include Brazilian, Latino, Blues, etc.
Lunch served noon - 4pm.
Live Music 2- 4pm